Fort Worth Driveway Washing Specialists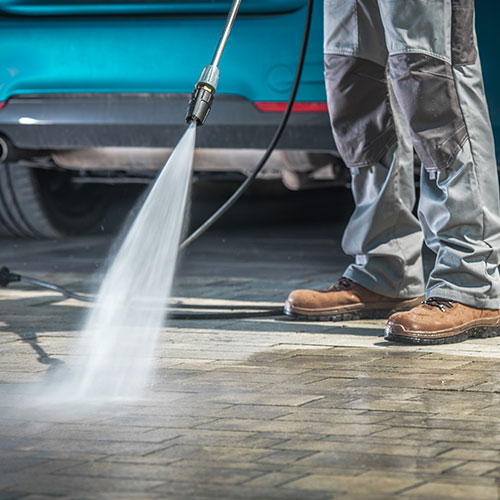 Do you need a driveway washing service for your home or business in Fort Worth, TX? If so, look no further than the team at Salter Exteriors! We are a locally owned and operated company that has been providing reliable pressure washing for Forth Worth clients for years and we are highly skilled in handling a variety of projects that will leave your property looking its absolute best.
We can remove a number of unsightly marks from your concrete, including:
Dirt, grime, and mildew
Oil stains from cars or trucks
Rust stains from metal debris
And other substances
We have a reputation for being one of the best in Fort Worth, TX, and we are passionate about what we do!
Schedule a driveway washing appointment with our Fort Worth-based company today and give your surfaces the attention they deserve!
Paved Surface & Concrete Cleaning
Salter Exteriors is Fort Worth's premier hard surface cleaning and driveway washing company. We use the best products to ensure your pavers are handled with the care they deserve and will remove any stains, dirt, or grime that is causing your concrete to look dull and dirty.
Dirty pavers and concrete can be an eyesore and make your home or business look unkempt. Our team can clean any paver surface to get it looking as good as new, so you can be proud of the appearance of your property again.
If you have a paver or concrete driveway that has become dull and worn over time, give us a call today for an estimate on how much it will cost to restore your surface to its original color and shine!
Exterior Clean-Up & Sidewalk Cleaning
Do you want to diminish the possibility of slips, falls, and injuries on your business or residential property? Contact Salter Exteriors today! We are committed to providing quality sidewalk cleaning services for Fort Worth, Texas residents, and are equipped with the tools and materials needed for a quick, efficient fix.
Whether this is a new home you'd like to keep tidy or an old business that needs a little TLC, Our technicians are trained in the latest cleaning techniques and will work with you to assess your sidewalk's condition and create a customized plan for repair.
If you need to clean your sidewalk, just call us! We'll be happy to provide you with an estimate and improve the aesthetic of your building's exterior.
TRUST THE EXPERTS! GIVE US A CALL TODAY FOR ROOFING REPLACEMENT & PRESSURE WASHING IN FORT WORTH!