Sidewalk Cleaning For Fort Worth Walkway Care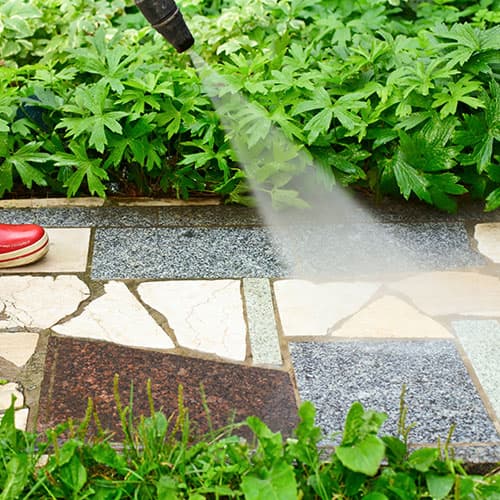 At Salter Exteriors, we believe that clean, safe walkways are essential to the health and safety of your community. That's why we offer our high-quality sidewalk cleaning services at affordable prices.
Our team of professionals uses the most advanced equipment available to ensure that your walkways are kept clean and safe for everyone who passes through them. We also use environmentally friendly products to protect our planet and keep it healthy for generations to come. When you hire our company, we will get rid of any build-up that's sticking to your walkway and provide safe and effective solutions that will transform your space into a beautiful and clean surface. We will also remove leaves or algae that may be present, making it easier for you to maintain your sidewalk in the future.
Our professional services are available in Fort Worth and surrounding areas and come with a 100% satisfaction guarantee. So, if you are ready to get rid of the buildup and make your property stand out, contact us today about our sidewalk cleaning in Fort Worth. We can't wait to work with you!
Walking Path Pressure Washing
If your walking path is looking a little dingy, the crew at Salter Exteriors can help. Our leading experts offer pressure washing for Fort Worth sidewalks that will remove dirt, debris, and buildup. Some of the harsh elements we can remove include:
Grime and dirt that's built up over time
Stained concrete caused by mold or rust
Moss, mildew, and algae growth
We offer sidewalk cleaning for residential and commercial properties, so if you are interested in learning more about our Fort Worth solutions or would like an estimate on what it would cost to clean your property's sidewalks, give us a call today!
Trusted Commercial Sidewalk Cleaning
Salter Exteriors offers unparalleled commercial pressure washing for Fort Worth, TX residents that are guaranteed to make any business or office area shine.
Our sidewalk cleaning professionals are experienced in cleaning all types of surfaces, including concrete and brick, and are dedicated to providing exceptional services that are sure to exceed your expectations. From businesses that need regular cleanings to those that need a one-time fix, our crew will get rid of any dirt that's taken over your sidewalk and restore the beauty behind the mess. We will use only the safest products and tools to ensure that your property is debris-free, clean, and safe for you or your employees.
Our company will make your sidewalk cleaning project good by providing peace of mind, insurance, and licensing. Schedule an appointment today and give your sidewalks a fresh start!
TRUST THE EXPERTS! GIVE US A CALL TODAY FOR ROOFING REPLACEMENT & PRESSURE WASHING IN FORT WORTH!